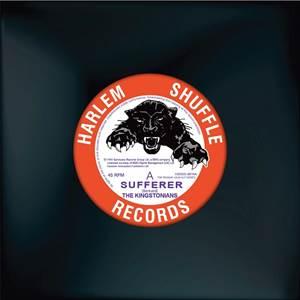 Kingstonians
THE KINGSTONIANS - "SUFFERER" / THE CRYSTALITES "SPLASH DOWN" (Harlem Shuffle)
This is a licensed release of the rare and very much in demand SUFFERER by THE KINSGTONIANS.
It was initially released on the Move & Groove label in Jamaica in 1968 followed by Big Shot in the U.K. in 1969.
It was also featured on the eponymous album released in 1970 on Trojan Records TBL 11.
It was reissued once only on 7inch vinyl as part of the Trojan's Monkey Business 7" Vinyl Box Set.
"SUFFERER" is with "HOLD DOWN" (released by Harlem Shuffle in May 2020) yet another very much in demand Reggay anthem by THE KINGSTONIANS.  
This cracking song combines bleak lyrics with a cheerful tune delivered on an uptempo, almost frantic rhythm…
This is a licensed reissue of the very rare 7" vinyl single track. Very much in demand,
it presently trades at about USD300 for a decent copy.
It was originally released on the 1969's 7inch vinyl single The CRYSTALITES - SPLASH DOWN on New Beat,
a Pama sublabel. This gem has never been repressed on 7" vinyl until now.
SPLASH DOWN is in fact the wicked instrumental version of SUFFERER. This is the first time they are released together on a 7inch vinyl single.
It is the perfect flip for this killer double sider. Super rare and super good.
---
Share this Product
---
More from this collection