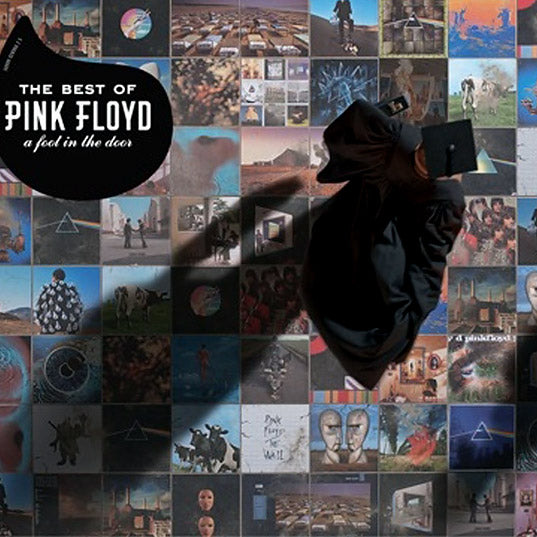 Pink Floyd
Pink Floyd - A Foot In The Door
Consisting of tracks selected by surviving members David Gilmour, Roger Waters and Nick Mason, the 16-track album includes numbers taken from "The Dark Side of the Moon" (1973), "Wish You Were Here" (1975), "The Wall" (1979), "The Final Cut" (1983), "A Momentary Lapse of Reason" (1987), "The Division Bell" (1994), and the early '67 single "See Emily Play."

The album is issued on heavy-weight 180g vinyl. All tracks were re-mastered for vinyl by long-time Floyd associate James Guthrieworking with Joel Plante; with lacquers cut by Bernie Grundman of Grundman Mastering in Los Angeles, Calif.

The vinyl pressing of the album features the full version of "Time," restoring the ringing alarm clocks at the start of the track, which were omitted on the CD release.

The double LP comes in a gate-fold outer sleeve with two printed inner bags. The original sleeve design by the late Storm Thorgerson is revised by Hipgnosis cohorts Aubrey Powell and Peter Curzon to include alternate versions of the photos used on the original CD.
Tracklist
Hey You
04:40 (Waters)
See Emily Play
02:48 (Barrett)
The Happiest Days of Our Lives
01:32 (Waters)
Another Brick in the Wall, Pt. 2
03:48 (Waters)
Have a Cigar
05:08 (Waters)
Wish You Were Here
05:05 (Waters/Gilmour)
Time (Edited)
06:20 (Mason/Waters/Wright/Gilmour)
The Great Gig in the Sky
04:36 (Wright/Torry)
Money
06:34 (Waters)
Comfortably Numb
06:19 (Waters/Gilmour)
High Hopes (Edited)
06:55 (Gilmour/Samson)
Learning to Fly
04:49 (Gilmour/Ezrin/Moore/Carin)
The Fletcher Memorial Home
04:11 (Waters)
Shine on You Crazy Diamond (Parts I-V) (Edited)
11:05 (Waters/Wright/Gilmour)
Brain Damage
03:46 (Waters)
Eclipse
01:53 (Waters)
---
Share this Product
---
More from this collection