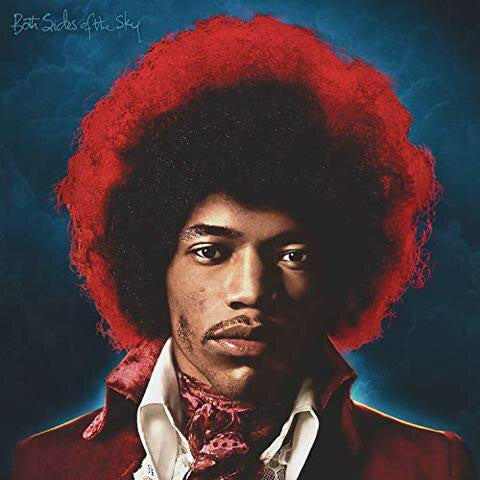 Hendrix, Jimi
Jimi Hendrix - Both Sides of the Sky
Both Sides Of The Sky presents 13 studio recordings including 10 which have never before been released. All but two of these studio recordings were made during a fertile period between January 1968 and 1970. Jimi's mastery and use of the studio as a proving ground for new songs resulted in a growing collection of extraordinary material. This album completes a trilogy of albums [with Valleys Of Neptune and People, Hell & Angels] presenting the best and most significant unissued studio recordings remaining in the Hendrix archive. The songs include fascinating alternate versions of "Stepping Stone," "Lover Man" and "Hear My Train A Comin'" as well as recordings where Jimi is joined by special guests Johnny Winter and Stephen Stills. Both Sides Of The Sky was mixed by Eddie Kramer, the engineer for all of Hendrix's albums throughout the guitarist's lifetime, and produced by Janie Hendrix, Kramer and John McDermott.

Mannish Boy - The first ever studio session by the group Hendrix would christen as his Band Of Gypsys. Hendrix, Cox & Miles shared a love for the blues as this driving, uptempo reworking of "Mannish Boy" by Muddy Waters makes clear.

Lover Man - Just two weeks before their triumphant New Year's concerts at the Fillmore East in NYC [yielding both 1970's Band Of Gypsys and 2016's sequel Machine Gun], Hendrix gathered with Cox and Miles to cut this dynamic rendition of what had become a favorite concert staple.
Stepping Stone - A totally unique take on this Hendrix favorite, with Jimi showcasing both blues and country styled licks atop a relentless, galloping beat.
$20 Fine -Stephen Stills joined Jimi, Mitch Mitchell and Buddy Miles Express keyboardist Duane Hitchings at this September 1969 session. With Stephen handling lead vocals and organ, Jimi added multiple guitar parts to this rollicking Stills original.
Power Of Soul - This 1970 studio session came three weeks after the Band Of Gypsys concerts at the Fillmore East. While a live version remains one of the highpoints of Band Of Gypsys, Jimi never released a studio version during his lifetime. For this album, we present the mix that Hendrix and Kramer prepared of the complete song at Electric Lady on August 22, 1970.
Jungle - The influence of Curtis Mayfield can be heard here as Jimi expands on the "Villanova Junction Blues" theme he made famous by its inclusion in the 1970 Woodstock documentary.
Things I Used To Do - Jimi is joined for this rendition of Guitar Slim's blues classic by Johnny Winter. Jimi's trademark guitar work and Winter's deft slide playing weaves in and around the foundation set by bassist Billy Cox and Crosby, Stills, Nash & Young drummer Dallas Taylor.
Georgia Blues - Jimi reunited with some old friends from his pre-Experience days. Lonnie Youngblood, with whom Hendrix played in R&B groups like Curtis Knight & The Squires, voiced this superb twelve bar blues neatly underpinned by Hendrix's sublime rhythm and lead guitar work.
Sweet Angel - With Axis: Bold As Love only just released, Jimi immediately turned his focus to recording what would become Electric Ladyland. This gorgeous, instrumental reading of "Angel,", features Jimi on guitar, bass and vibraphone joined by Mitch Mitchell.
Woodstock - Stephen Stills came to this session fresh from having visited Joni Mitchell, who had a new song that Stills was excited to try and record. Long before CSNY's version, Stephen, Jimi and Buddy Miles recorded this amazing rendition.
Send My Love To Linda - A superb new Hendrix original composition recorded with Cox and Miles in the aftermath of their successful Band Of Gypsys performances at the Fillmore East.
Cherokee Mist - Together with drummer Mitch Mitchell, Jimi created this moody, evocative original complete with his playing of a sitar to complement his traditional electric guitar.
---
Share this Product
---
More from this collection