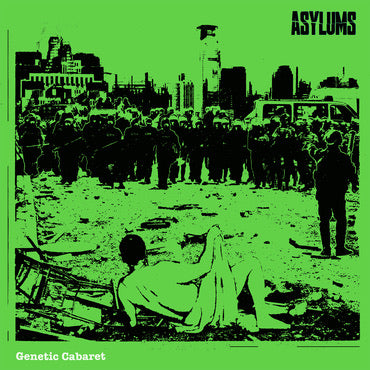 Asylums
Asylums - Genetic Cabaret
saIn the privacy of a world-class studio with legendary recording engineer and sound alchemist Steve Albini (In Utero by Nirvana, Rid Of Me by PJ Harvey, Surfa Rosa by Pixies; too many stone-cold legends to parenthesize), Asylums recorded new album Genetic Cabaret, their follow up to 2018's acclaimed Alien Human Emotions. Whilst recording, the band split their time between Chicago, whose big honest soul superseded the garish horrifying pantomime of Trump's America, Norway and Germany, where Brexit shame was temporarily suppressed like a bad nightmare. The 4 pieces are now back on the floundering isle of chaos that is home, nails bloody from picking the real from the farce and bursting at the guts with tales of runaway adventures, magpie wisdom and furious hope. Asylums have big new things to say.
Originally described as "Blur if they were raised in Seattle or signed to Sub-Pop" or "the excitement you felt when you first heard Buzzcocks or Manics", the development of Asylums has taken them into a brand new sonic space – a combination of anger and experimentalism, of whispered secrets and musical mood swings. For those that need a "for fans of..." reference - think Fontaines DC and Metz gene-spliced with The Flaming Lips and Spiritualised.
Moving on from the neon ride of the first album Killer Brain Wavesand the bold exploration that was Alien Human Emotions, Genetic Cabaret is a seething tandem of beauty and ire. To theme it is to expect a riot to keep within the lines but look forward to political puzzling from protesting hearts, a pop-punk pop at the establishment, a demand for something else. This is a band of brothers who have realised they are not boys anymore. Gone are the days of kicking stones about their seaside town. Asylums have learned how to articulate their hearts and weaponise their conscience. The prelude to parenthood (vocalist/guitarist Luke Branch recently became a father for the first time) brings a new vital urgency to their work. These are the times to demand more, not just for yourself, but for the future.
---
Share this Product
---
More from this collection